About

Gethyn Jones
TV and Radio Music
Gethyn Jones was a co–founder of Jugg Music with Brian Hug and the late Nick Hug. They were active during the 1970s and 1980s writing and producing TV sig tunes and incidental music for such shows as the iconic RUNAROUND with comic Mike Reid, (and later, Leslie Crowther) and GOING OUT directed by Colin Nutley. Series, programmes and ads include: Runaround, Going Out, The Flockton Flyer, In Search of Father Christmas, Hey Look That's Me, Noah's Castle, Anneka, Fifth Generation, BBC Radio Solent IDs and more.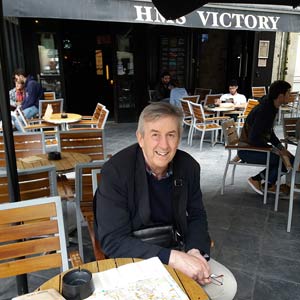 Pioneering Days of Pop Music
'I was sold on music from the moment my cousin played me a recording of Red River Rock by Johnny & The Hurricanes. I grew up in a musical family – my father was a pianist, church organist and composer – but 'pop' music wasn't welcomed in the household during 1950s and early 60s!
'I learned piano from age 6 but suffered under the ruler [sic] of a terrifying matriarchal teacher. Then pop music entered my life, a cheap guitar was bought and, from there, years were spent listening to and copying my favourite songs until I started to write my own music. My teenage years were spent soaking up every twist and turn of musical invention from The Beatles, The Who, The Stones and hundreds of others – all experimenting and playing with new ideas. I wanted to be part of this amazing musical journey. My present day taste in music is catholic - absolutely anything goes.
'An unplanned but extremely happy career (mostly) in BBC Radio (Solent) and TV Broadcasting occupied me from my early adult years - working with and meeting some amazing people. It also exposed me to a fabulous treasure trove: the BBC Gramophone Library. Any track ever recorded and released – just a requisition form away.'
'Along the way, I got to know a TV Director, Colin Nutley, who was looking for original music for his TV programmes – and those of his colleagues. Cue Jugg Music, formed using the surnames of Gethyn Jones, Nick Hug and Brian Hug. Together, we collaborated on composing and recording TV sig tunes and commercials for around 15 years.
'Fast-forward to 2015 – I started writing songs again (thank you Cubase). My present day taste in music is catholic - absolutely anything and everything goes.'